noun: advocacy: public support for or recommendation of a particular cause or policy.
_________________________________________
Sign up for Metro Alerts about
developments in your Council District
_________________________________________
Let Your Voice be Heard!
If you have an issue and want to be heard - click HERE to email Mayor Fischer or click HERE to email your Metro Council Person!
______________________________________________
#TearDownTuesdays
Every week more and more homes are demolished in Louisville!
Find out more and follow Preservation Louisville on facebook!
#Deserve2Preserve
______________________________________________
Preservation Louisville followed over 100 local organizations and has signed on to support the Louisville Affordable Housing Trust Fund!
Established by Metro Council in 2008, the Affordable Housing Trust Fund is intended to invest public funds in the kind of housing our community needs: housing for people on fixed incomes like seniors and people with serious disabilities; for young families starting out; for veterans; and for working people whose wages are not enough to live in Metro Louisville.
Unfortunately, the Affordable Housing Trust Fund is lacking the crucial component necessary to provide the housing relief our communities need: dedicated revenue sufficient to meet our housing challenge.
We have a solution! Metro Council can take action now to help hardworking families by enacting a 1% insurance premi-um tax increase as the source of ongoing dedicated public revenue for the LAHTF. By doing so, Louisville establishes
$9.7 million annually in dedicated public revenue for the LAHTF to help struggling families. For the average person paying homeowner's and auto insurance in Louisville, the impact is equal to 63¢ a month for each, about the cost of a 2-liter of soda. That is not much to pay to make sure children, seniors and veterans have a place to call home. Increasing the in-
surance premium not only allows the Affordable Housing Trust Fund to provide needed housing, it is a job creator and a money magnet!
Preservation Louisville is disappointed that Omni hotels and Metro did not take full advantage of the opportunities for smart growth on the Water Co. building block. On July 29, 2015 the Metro DDRO voted to approve the Omni Louisville project which will not incoporate the histoic buildings on the block.
Below is information from the advocacy efforts for the
Omni hotel development project

_________________________________________________
Omni Forum V2 from Kertis Creative on Vimeo.

Follow @PreservationLou on Twitter for updates
from the DDRO meeting!
Give Us Your Ideas - Use #RePurposeWCB
Please follow us on facebook to keep up with news updates!
On July 15, 2015 the Metro DDRO committee held a meeting and heard testimony from Omni Hotels, Metro Louisville Forward and many citizens came to the first meeting and expressed their desire to see sustainable development on the Water Co. block. The DDRO decided to take time to review information and asked Omni to address many of the concerns heard at the meeting that day. The follow up meeting is 7/29/15 at 8:30am at the Old Jail building.
We are asking that all concerned citizens attend this
meeting and Make their Voice Heard!


We want Metro Louisville and Omni Hotels to
Choose Sustainable Development!

 
Make Your Voice Heard About the

Water Company Building &
the Omni Development 

Please email

Robert.Keesaer@louisvilleky.gov

to have your comments given to

the DDRO Committee
Feel free to use the text below to send in your email:
We ask that the DDRO committee work with Omni to achieve a new design that better exemplifies the goals of the DDRO. We ask that you choose a design that utilizes sustainable, smart growth! Our historic buildings are our assets and we ask that you protect the assets that remain on the Water Co. Block, and prove that Preservation = Progress!
Click HERE to email Mayor Fischer 
Click HERE to email Metro Council

Mayor Greg Fischer announced his intentions to save the Water Co. Building - slated to be cleared for development in 2016. There are two remaining structures on the block the Water Co Build and the Odd Fellows Hall and Preservation Louisville has called for the preservation of both of these historic structures. Mayor Fischer made a public call for assistance in finding a suitable location and use for the Water Co. Building, offering up to $1M to fund its relocation. 


To try to answer this call, Preservation Louisville and the National Trust for Historic Preservation's: Preservation Green Lab are bringing together architects, developers, and local leaders for a design charrette to explore a range of viable options for relocation and reuse. The charrette will demonstrate how a community driven, creative process can produce exciting, viable solutions to advance the continued revitalization of downtown Louisville.
But we need public input, too. Complete this survey by
Thursday, June 18th to be part of the conversation!
Responses will be presented to the charrette team and used
in consideration of the building options. 
There are 2 historic buildings still in question: 
Water Co Building & Odd Fellows Hall

What do you want to see from the Omni project? 
What would you like to see on the 
Water Co Block?  
Sign our Petition to OMNI


Save the Water Co. &

Odd Fellows Hall

Click HERE to Sign the Petition!
The Water Co. block is an important part of Downtown Louisville's historic street-scape that creates an unique sense of place in our community. Bounded by Second, Third and Liberty streets and Muhammad Ali Boulevard this block once had several historic buildings some of which are now gone and along with them a part of our city's unique history.
The Water Co. block was first listed on Louisville's Top 10 Endangered Places list in 2005 because of its significance and the opportunity for future development. The Louisville Water Co. buildings & Odd Fellows Hall remain on the block and we are asking OMNI HOTELS to:
choose sustainable development
choose to integrate the remaining historic buildings
choose to preserve Downtown Louisville's historic street-scape & sense of place!
Morrissey Garage & Falls City Theater
Buildings Demolished
Preservation Louisville is saddened by Metro Louisville's demolition of historic buildings known as the Morrissey Garage and the Falls City Theater Company buildings on 3rd street in downtown Louisville. Demolition began with the facades Saturday, April 12, 2015. An April 9th
press release
pointed to the deterioration and unsafe conditions of the buildings as the reason for their emergency demolition.  While Preservation Louisville would have rather seen the rehabilitation of these buildings, we do not advocate for preservation of unsafe conditions in historic buildings. Preservation Louisville expressed the preservation community's desire to see the facades of these buildings incorporated in Omni's future development, and we are investigating the claims that preserving the facades was not an option.
This block is a significant part of our downtown street-scape and the community will be impacted by it's loss. It is unfortunate that Metro could not have found way to save these buildings before safety became an immediate issue." said Executive Director Marianne Zickuhr.  The Water Co. Block has been on Preservation Louisville's Endangered Historic Places list for several years and has consistently been an area of interest for our organization. "Demolition by Neglect is not a sustainable way to develop and evolve as a city and I am saddened for the city at this example." Zickuhr said. Preservation Louisville is interested in, and is pursuing seeing the evidence that Metro sites as the reasons for the emergency demolition of these buildings. Our organization is also dedicated to protecting the historic buildings that remain on the site.
Check out the links below for more info! 

WDRB News coverage
Zickuhr said the removal of the three buildings amounts to "demolition by neglect."
"It's just unfortunate that the owners were allowed to let it sit for so long and let it deteriorate," she said.
additional video from WDRB
WHAS11 News coverage
"If we can take anything away from this - it's that you have to be involved. You have to be proactive. You can't wait around and think someone is gonna let your voice be heard. Every citizen has the right to love and promote the history here in this city" said Zickuhr.

Sign up for Metro Alerts about
developments in your Council District
_________________________________________
Let Your Voice be Heard!
If you have an issue and want to be heard - click HERE to email Mayor Fischer or click HERE to email your Metro Council Person!
Below are some FAQ's that Metro Louisville provided with their press release


Develop Louisville
FREQUENTLY ASKED QUESTIONS
Morrissey parking garage, Typewriter building and Falls City Theatre Company building
April 9, 2015 
Why do the buildings need to be taken down pursuant to an emergency declaration?
There is an imminent risk that the buildings will collapse, posing a public safety hazard.
What is the basis for this decision?
The building inspection staff of the construction review office and facilities staff made several inspections of the buildings and in consultation with a structural engineer (Slesser Engineering of Louisville) decided the buildings posed a risk and need to come down.  There has been significant, cumulative deterioration in these buildings for years.  See attachment. 
Does anybody currently occupy these buildings?
No, we believe they have been vacant for at least ten years.
Have any items been removed from the buildings, items of historical significance? 
Morrissey Garage
Pair of Doors at the back of the main entrance to the Morrissey Garage
           Falls City Equipment Company
                                a. Neon Sign;
                                b. Ornate decorative Pillars;
                                c. Stereoscope Cameras.
Additionally, the Morrissey Garage and the Falls City Theatre buildings have been photo-documented to record the buildings' character defining features for archival purposes.The items have been securely stored in the Louisville Gardens.
What is the timeframe/process for removing these buildings?
Permits are expected to be issued this week with work expected to begin at the end of the week.  It is expected that one lane of Third Street will be closed Saturday and Sunday (April 11-12).
How did these buildings get to this level of deterioration?
The City took possession of these structures in 2007 and 2008.  At that time, they were already in an advanced state of deterioration.  In 2009, the City commissioned a report by a structural engineer that confirmed the level of deterioration of these structures. 
Has anyone showed interest in renovating these buildings in recent years?  
No.
Who will perform the work to take down the buildings and how much will it cost?  
NEC Contracting based in Louisville.  The estimated cost is approximately $360,000 and will be borne by the City.
Can I go the location and get pictures?
No, due to safety concerns we can't let anyone on or inside the property. Photos are provided in a pdf attachment to the release and available on-line at www.louisvilleky.gov. 
Who can I contact for more information?             
For questions related to the state of the buildings, Dave Marchal 574-3216.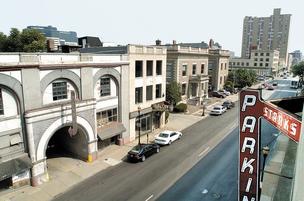 There are 2 other historic buildings still in question:
Water Co Building & Odd Fellows Hall


What do you want to see from the Omni project?


What would you like to see on the Water Co Block?


Sign up for Metro Alerts about
developments in your Council District
Let Your Voice be Heard!
If you have an issue and want to be heard - click HERE to email Mayor Fischer or click HERE to email your Metro Council Person!
#TearDownTuesdays
Every week more and more homes are demolished in Louisville!
Find out more and follow Preservation Louisville on facebook!
#Deserve2Preserve
Metro Council voted to override the Mayor's veto of the Landmarks Ordinance amendment!
At the Metro Council Meeting on 8/9/12 our Mayor's veto of the changes to our Landmarks Ordinance was defeated.  This action by the Metro Council has weakened our city's position as progressive preservation leaders in this country.  Preservation Louisville is disappointed with what has occurred over the past 6 months concerning changes to our Landmarks Ordinance. 

Beside the fact that there was no impetus for changes to this 40 year successful ordinance, when preservation leaders attempted to point out the facts about the Landmarks Ordinance and how it has served our community well, the majority of the Metro Council did not listen.  The sponsors of our new Landmarks Ordinance have ignored these facts, and the voice of the citizens, who were 10 to 1 opposed to these changes in public hearings.  This action has created problems where none existed - for example - the need for more over sight by the Metro Council was not necessary - since it already existed with the seat they hold on the Landmarks Commission, and the fact that the Mayor appoints the members of this commission and the Metro Council approves them. 

There was a gross amount of confusion created by the authors of this new ordinance who spread misinformation about our Landmarks process in order to push forward their own political agenda.  This was a blatant show of disrespect for our Mayor, the community and our heritage and Preservation Louisville is appalled at the historic step backwards our "possibility city" took today.
"For nearly 40 years, the process to designate an historic building a local landmark has served Louisville and its citizens well. Our landmarks process preserves buildings that help tell a unique story that belongs only to Louisville."
-Mayor Greg Fischer, 8-2-12 
CLICK HERE TO READ THE MAYOR'S VETO LETTER
+++
In February 2012 Councilman David Yates began a successful process to amend Metro Louisville's Landmarks Ordinance. Below you will find information about this issue that Preservation Louisville compiled in regards to this situation.

Since 2000, there has been 40 local landmark designations and of those 40 landmarks only 8 + Whiskey Row were petition driven.  With an average of less than 1 designation per year, this is hardly a Metro process run amok! The Metro Louisville Landmarks Ordinance as it stands now is a proven process that has been modeled across the country for being one of the oldest and best structured in any community.
Based on an analysis of the most recent landmarks petitions presented to the commission,
the majority of signatures on Metro Landmarks petitions requests ARE from the people that
live nearest the proposed Landmark in question. For example:

The Peter C. Doerhoefer House, Landmarked in 2011, located at 4422 West Broadway, 40211:
Out of a total 363 signatures, 172 of these came from the zip codes 40211 and 40212.
Twig and Leaf, Landmarked in 2011, located at 2122 Bardstown Road, 40204:
Out of a total 679 signatures, 245 came from the 40205 zip code – well more than the 200
needed to grant a hearing in front of the Landmarks Commission!
Colonial Gardens, Landmarked in 2008, located at 618 West Kenwood Drive, 40214 showed
widespread support for the landmark with 31 zip codes represented and approximately 124 of
the signatures came from west of Poplar Level Road.
The petition for the Roscoe Goose House, 3012 S. 3rd Street, 40208 had a total of 350 signatures and 124 of these came from the zip code 40208 and the adjacent zip codes.  This petition originated from the support of the South Louisville Neighborhood Council and has engaged the support of several Roscoe Goose descendants.
______________________________________________________________________
Click here for the
Whiskey Row Announcement 5-11-12
_______________________________________________________________________
The Rosecoe Goose House
is a Louisville Landmark!
May 22, 2012 The Metro Landmarks Commission unanimously voted to desginate
The Roscoe Goose House a Local Landmark!

Roscoe Tarleton Goose (January 21, 1891 - June 11, 1971) was an American jockey in Thoroughbred horse racing who was one of the inaugural class of inductees in the Kentucky Athletic Hall of Fame. Born near Louisville, Kentucky, Roscoe Goose won a number of races, the most important of which came in 1913 when he captured the Kentucky Derby with the colt, Donerail. Sent off at 91:1 odds, Roscoe Goose stunned racing fans with a win that returned backers $184.90 for a $2 wager, a Derby record which still stands. Dubbed The Golden Goose, when his career as a jockey came to an end he remained in the Thoroughbred racing industry as a trainer and an owner.  3012 S. 3rd St. was built in 1900 and Roscoe Goose acquired the house in 1912 and lived there with his brother Carl Goose, who was also a famous jockey. The property was owned by Roscoe Goose until his death in 1971.
______________________________________________________________________________
Advocacy efforts
Preservation Louisville helped gain landmark status for Bauer's Restaurant, the Wayside Christian Mission properties on East Market Street, Colonial Gardens in the Iroquois neighborhood and Whiskey Row. We also assisted in protecting the Ouerbacker House on West Jefferson Street from threatened demolition, and helped save a threatened shotgun house in Butchertown.
In January 2008, after months of study, the Board of the Brennan House Historic Home voted to change the mission of the organization following recommendations from the National Trust for Historic Preservation and local stakeholders, and to add the role of preservation advocacy to our mission. Although our mission has expanded, we will continue to act as a Heritage Center and to preserve the Brennan House along with the original family collection. In June 2008, the Board chose the name Preservation Louisville, Inc. to reflect the importance of historic preservation to this expanded mission and our community. Preservation Louisville's new mission is to "Protect and Promote our community's Cultural, Environmental and Architectural Heritage"